THE OHIO RIVER MUSEUM IS CURRENTLY CLOSED AS WE AWAIT CONSTRUCTION OF OUR NEW FACILITY.
PLEASE CALL US AT 740-373-3750 WITH ANY QUESTIONS.
Go back in time at the Ohio River Museum, before roads and highways were the primary means of transportation. Three buildings of artifacts from the collections of the Sons and Daughters of Pioneer Rivermen will transport you to an age of travel few have experienced and many only imagine. Don't know a keelboat from a flatboat? Amazed at ocean vessels being built in Marietta, Ohio in the early 1800's? These questions and others will be answered as you start your tour of the Ohio River Museum.
---
The Beginning of River Transportation
Begin your adventure as you learn about the early river environment. Paintings done by Dean Cornwell (1892-1960), a contemporary of Norman Rockwell and Rockwell Kent will spark your imagination as you take in the life-sized model of The Pioneer. Built by George Schotten of Hubbard, Ohio, this model sternwheel is twenty-four feet long, 1100 pounds and built on a scale of 1" to 1'.

---
The Steamboat Era
Continue on with a wall of 18 hand crafted boat models and the history of the originals they represent spark your imagination as you learn about life aboard a riverboat. Whether it was built for moving cargo or built for travel and entertainment, your imagination will take you places you wish you could visit. Some will surprise you as to where they were built and some stories will sadden you as you learn their fate. From larger than life pilot wheels to boat whistles and bells, to furniture to china, artifacts from the boats you have only read about will fuel your imagination.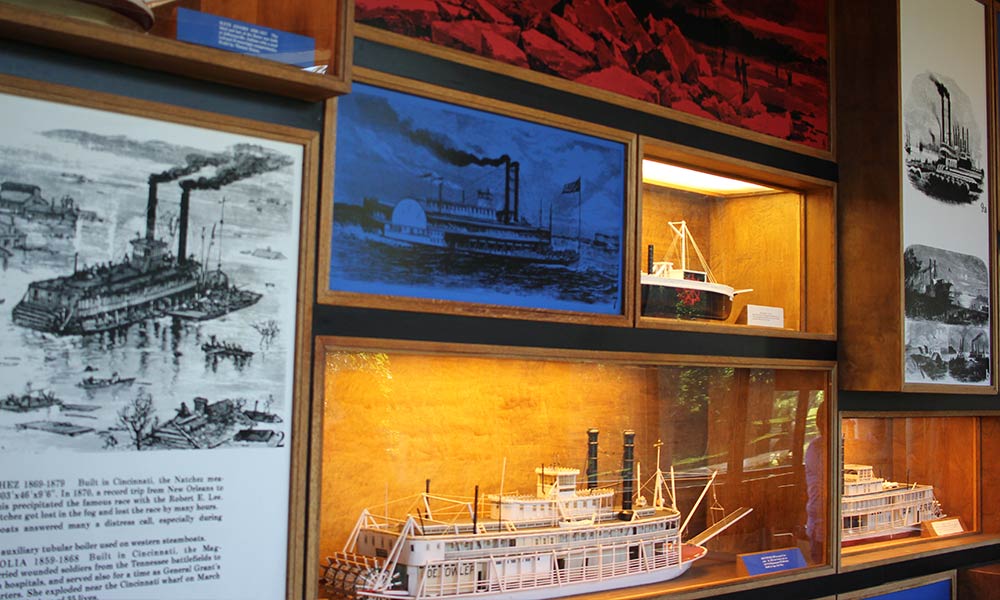 ---
The Golden Age of River Travel
Building three will answer your questions as to how these magnificent boats were constructed during a time without the sophisticated tools and machinery of today. Learn about packet boats and their part in the Civil War. Never hear of a wicket dam? Learn how these operated before the modern locks and dams of today. See how fresh water mussels became part of a major industry in the United States. These and more artifacts from original boats will show you why all this was part of the Golden Age of river travel.